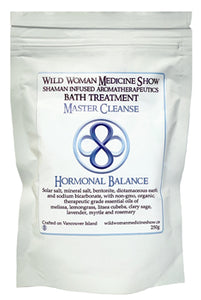 Nature's Best Rock and Gem
Hormonal Balance Bath Salts
Regular price
$12.00
$0.00
Unit price
per
The Master Cleanse line has evolved through Shae's Shamanic Healing Practice. Each bath is a choice to move your healing forward at your own pace, in your own time. Hormonal imbalances, caused by even the smallest amount of stress and pressure, can lead to PMS, sleep disturbances, morning weepiness, low or non-existent libido, hot flashes and more. A decent sleep, a connection to our bodies' timetable, and the energy to live past our coping skills, we easily reset our systems and find the path to enjoy the adventure of LIFE.
Handmade
Intention: Hormonal Balance.
Ingredients: Solar Salt, mineral salt, bentonite, diotamaceous earth, and sodium bicarbonate, with non-gmo, organic, therapeutic grade essential oils of melissa, lemongrass, litsea cubeba, clary sage, lavender, myrtle, and rosemary.
Instruction: Place some of the bath treatment in a bowl and leave it on a counter that you walk by often. Run your hands through the salt and visualize the work as you prepare for a full soak. Healing practitioners, use our blends as an energy cleanser before and after working with a client to keep their intention clear and honorable. People without a bath tub take a handful of the treatment into the shower and with intention scrub the mixture through their hair and over their arms and body, letting the shower rinse away any disharmony or old energy.
---